New to the world of saunas? Start here to learn everything you need to know!
If you've been searching for your own home sauna, you've probably discovered there are a lot of options out there. It's exciting and overwhelming. But finding your perfect oasis shouldn't cause you more stress! With that in mind, My Sauna World has created this Start Here Guide to help you choose the best sauna for you.
1. WHAT'S THE DIFFERENCE BETWEEN TRADITIONAL SAUNAS AND INFRARED?
Traditional and Infrared Saunas heat the body differently, but offer the same health benefits.

TRADITIONAL SAUNAS
Traditional saunas can be indoor or outdoor. They use electric or wood-burning heaters to heat the air inside the sauna up to temperatures of 190 - 195°F.

By sitting inside the heated space, your body temperature also rises, causing you to sweat. Traditional saunas offer higher humidity levels, especially when used with water on the rocks to make steam.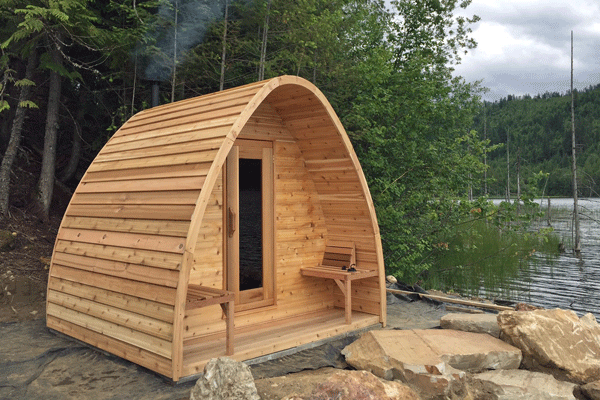 INFRARED SAUNAS
Infrared saunas are typically indoor only, and they use penetrating infrared light to heat the body directly, rather than the sauna space. Infrared heaters use carbon heaters to generate heat up to 120 - 140°F, raising your body temperature directly to cause sweating.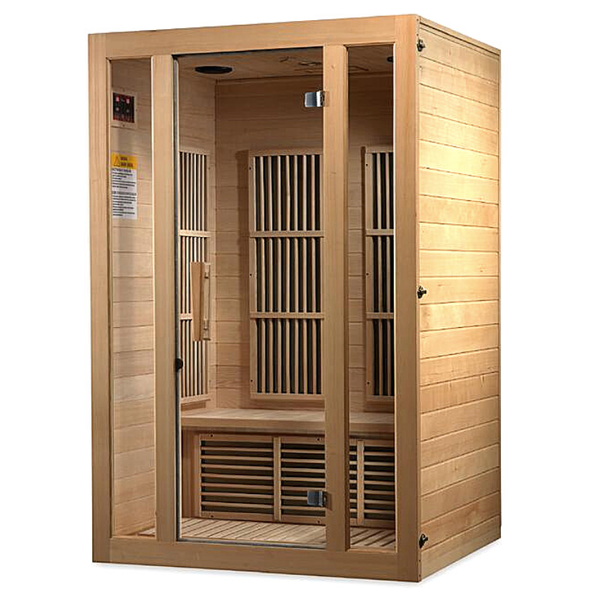 2. WHAT'S THE DIFFERENCE BETWEEN WOOD-BURNING & ELECTRIC HEATERS?
Both heater types are efficient heat sources and are safe to use to create steam.
ELECTRIC HEATERS
An electric heater is the best way to go if convenience is a priority. With a flip of a switch (or a push of a mobile app button) an electric heater will quickly and effortlessly heat your sauna.
Requirements:
Electric heaters require 220 volts and 30-40 amps of power, depending on the size of the heater. You will need a licensed electrician to connect it and hard-wire the heater to an electrical source.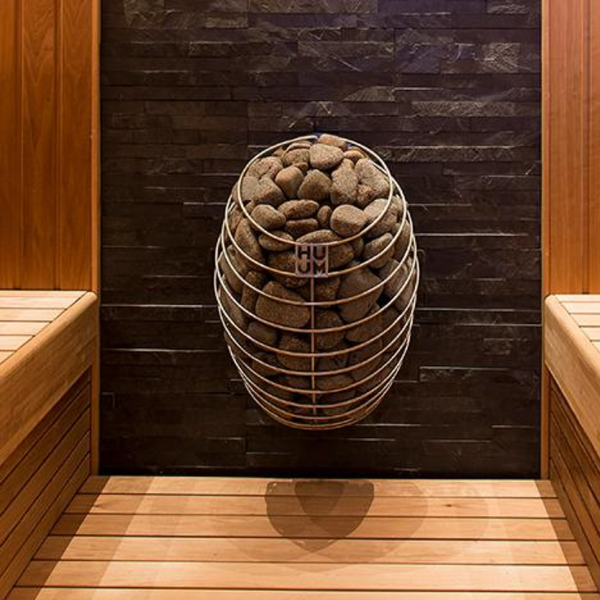 WOOD-BURNING HEATERS
Wood Burning heaters are ideal if you prefer the crackling ambience of a real fire. They are very effective in heating up bigger spaces and are recommended for large saunas, such as 6-person saunas (84") or larger.

Requirements: Wood-burning heaters require an additional chimney kit, and are only appropriate for outdoor use.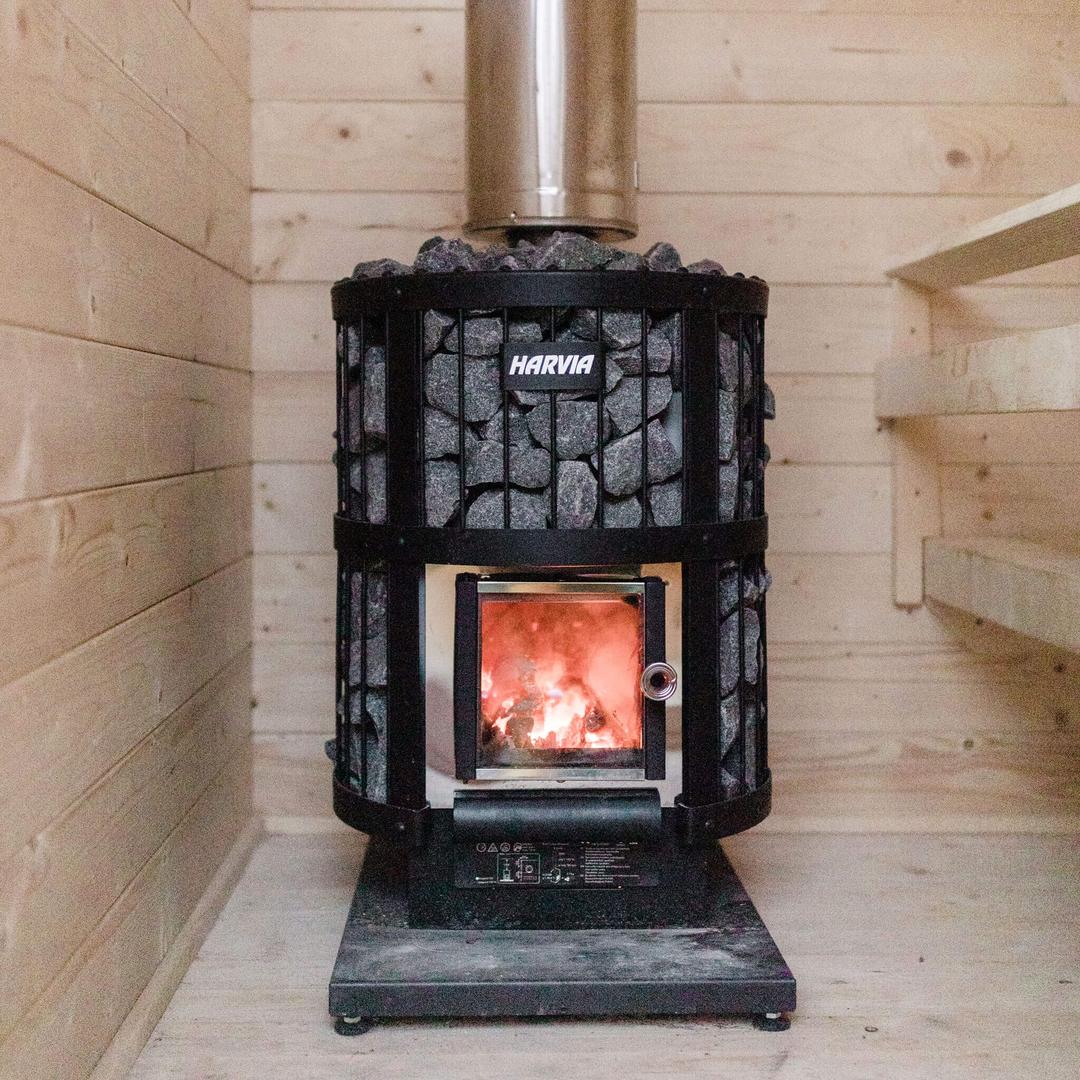 3. WHAT'S THE DIFFERENCE BETWEEN OUTDOOR AND INDOOR SAUNAS?
It all depends on where YOU put it!
OUTDOOR SAUNAS
The only exclusively outdoor sauna is any model with a wood-burning heater. Almost all saunas types can be used outdoors unless they are specifically designated as an "indoor" sauna.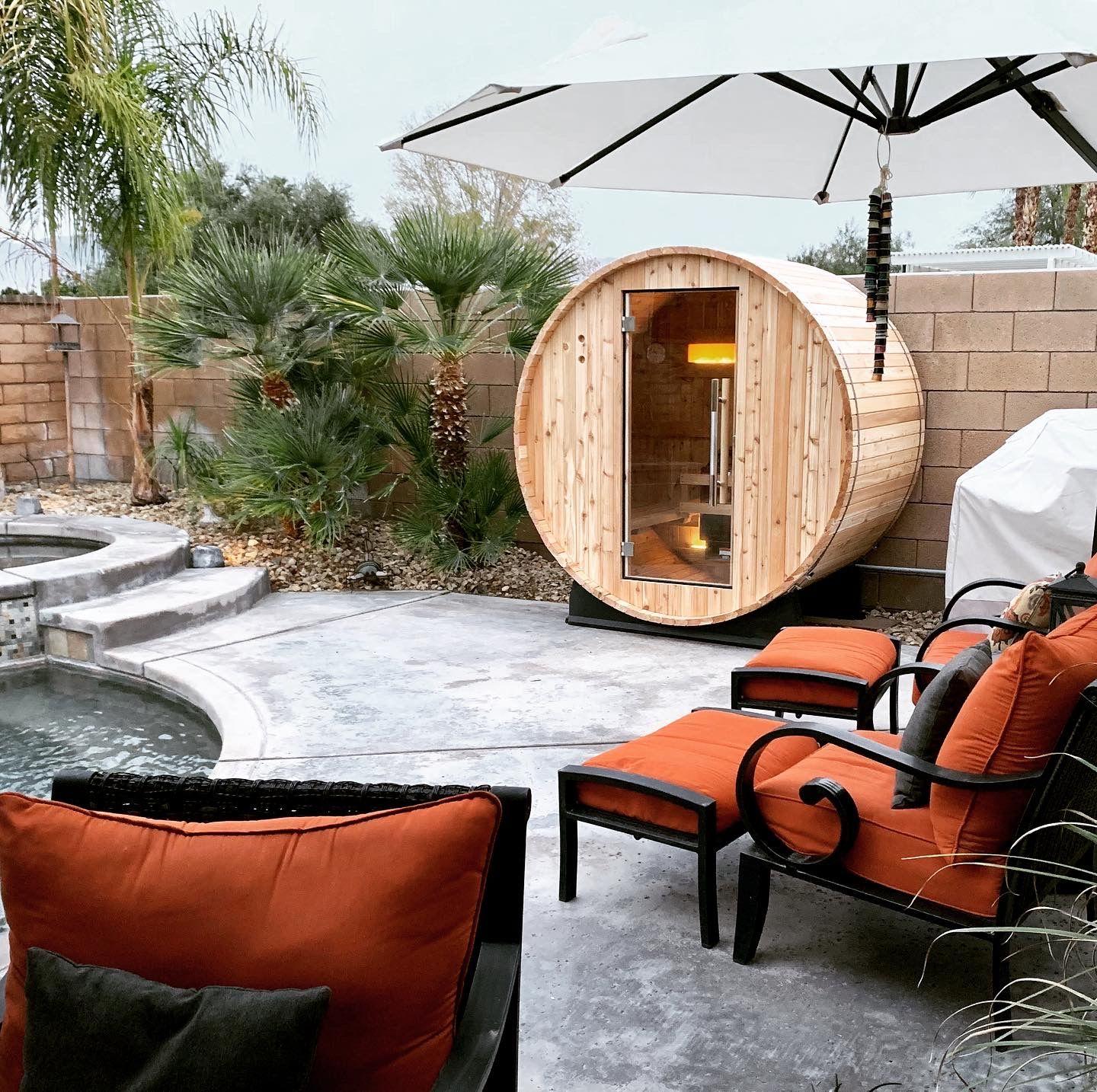 INDOOR SAUNAS
Any sauna with an electric or infrared heater can be used indoors. Many indoor-specific saunas are designed to utilize the existing floor as their interior surface (ideally placed upon a concrete, tile, vinyl or laminate area). We do not recommend placing your sauna on carpeted areas; should you opt to, a floor kit is a must.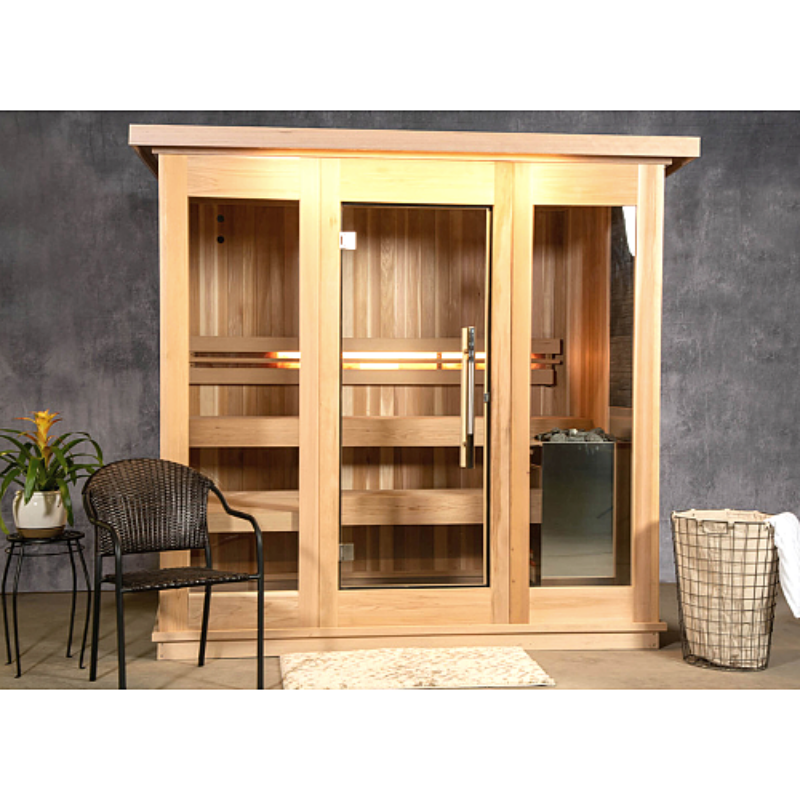 4. WHAT'S THE DIFFERENCE BETWEEN SAUNA SHAPES?
Barrel Saunas are a crowd favorite, but which shape speaks to you?
BARREL SAUNAS
Barrel saunas have a highly effective design that allows them to heat quickly and efficiently while maximizing interior space. They come in a range of sizes and customizations.

Best for: Outdoor use. Since barrel saunas naturally shed water, they possess a structural integrity that is retained even in the harshest outdoor environment.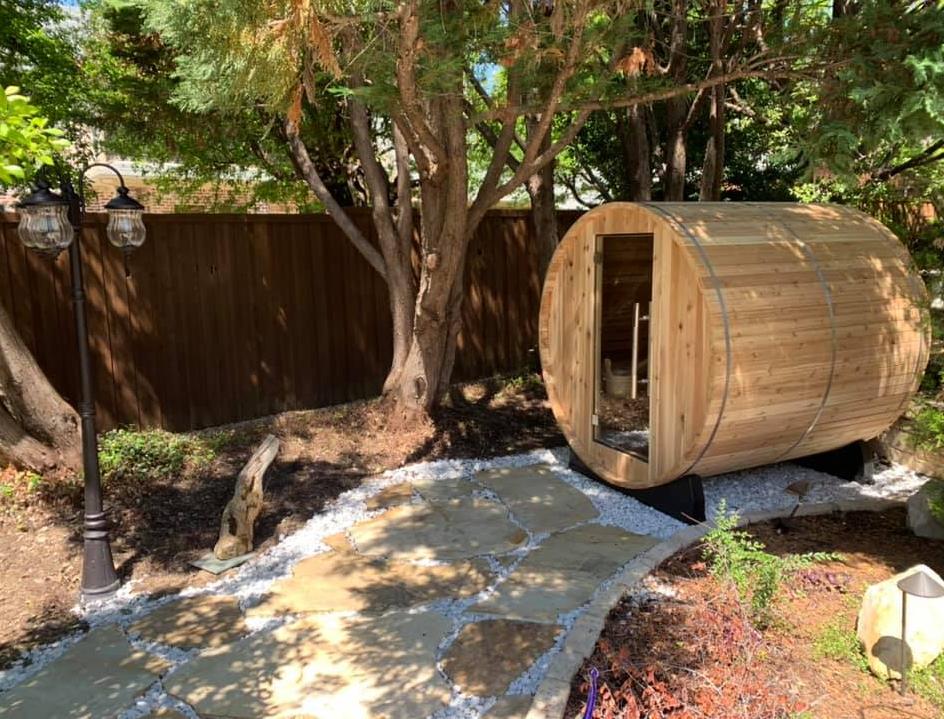 CABIN SAUNAS
Shaped like a house or cabin, this sauna shape is straightforward and spacious and comes in a range of sizes. Most often used for indoor and infrared saunas.

Best for: Cabin-shaped saunas are appropriate for both indoor and outdoor use.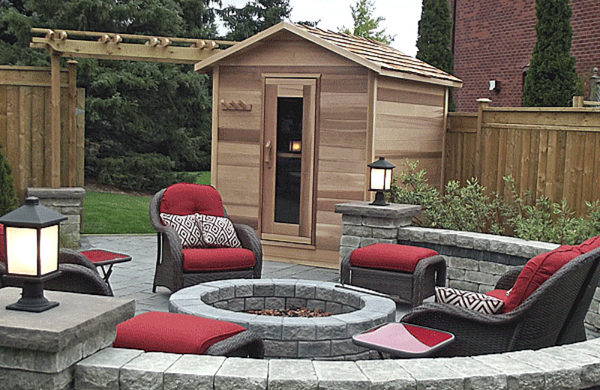 5. WHAT'S THE DIFFERENCE BETWEEN SAUNA WOOD TYPES?
All sauna wood types are moisture-resistant and durable, what makes them distinct is their appearance.
CEDAR OVERVIEW
Cedar is one of the most popular sauna wood types due to its durability, natural beauty, ability to repel insects, stains, mildew, and decay.

Color & Scent: Western Red Cedar has deep reddish coloring, while Eastern White Cedar has a light creamy color.

Clear vs Rustic Cedar: "Clear" means no knots are present in the wood, giving it a smooth texture and modern look. "Rustic" means knots are present, giving it a provincial aesthetic.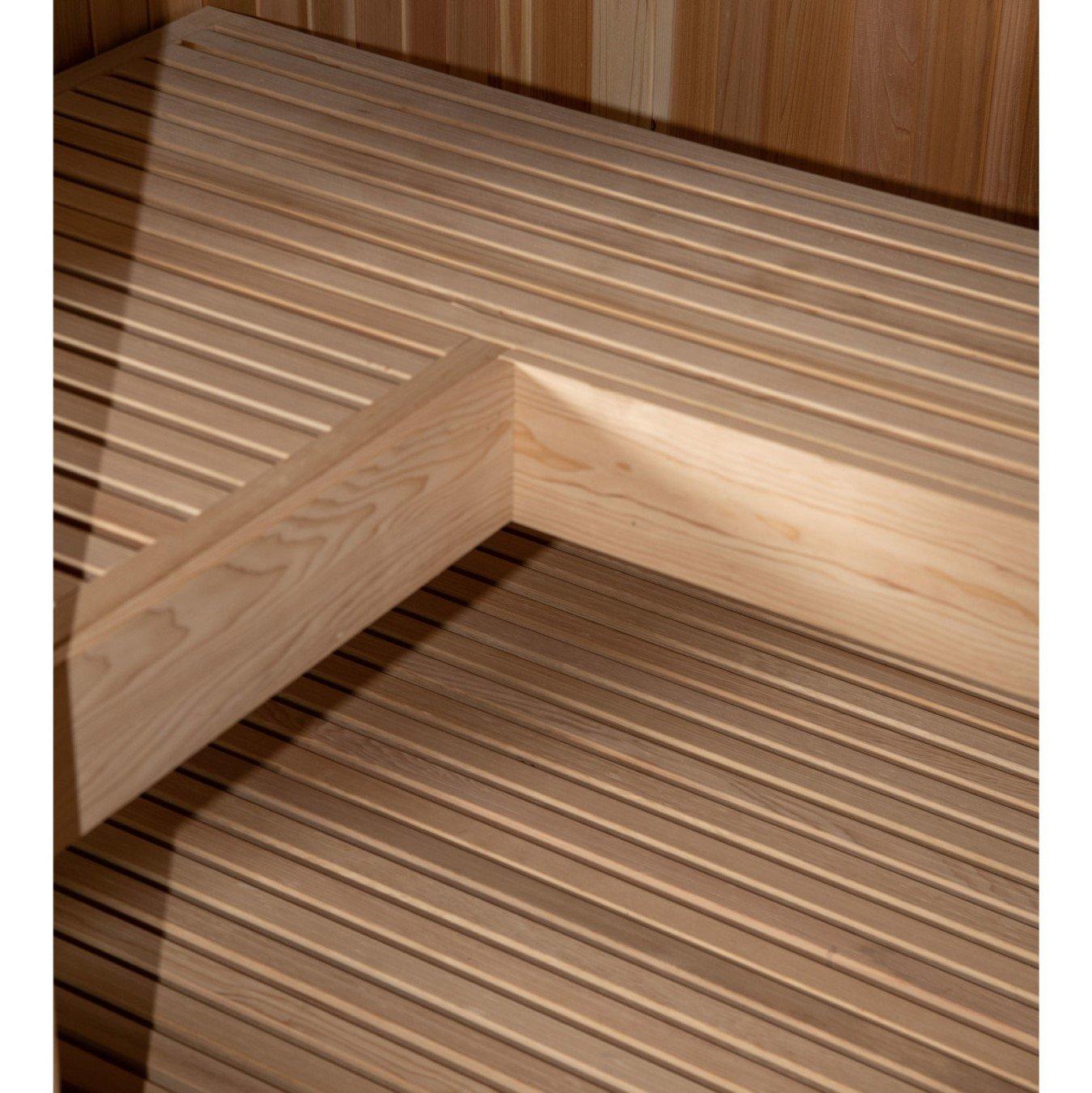 SPRUCE OVERVIEW
Nordic Spruce is suitable for both outdoor and indoor sauna use, known for its durability and resistance against stains.

Color & Scent: Spruce is light in color with small, tight knots giving it an attractive, rustic appeal. It has little to no scent and is hypoallergenic.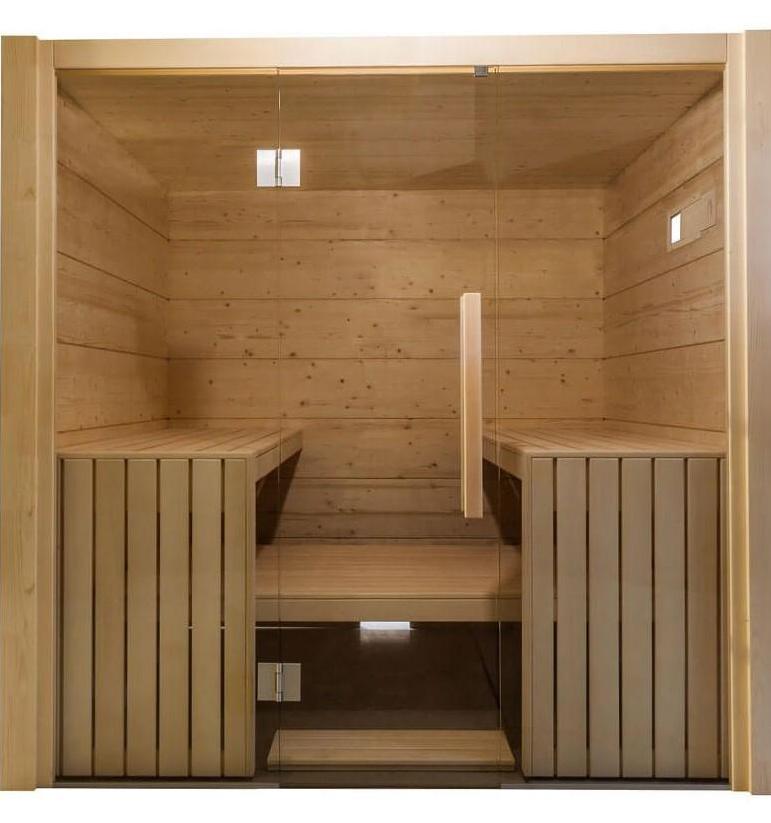 HEMLOCK OVERVIEW
Canadian Hemlock (also known as Eastern Hemlock) is one of the most affordable sauna woods. It's less suitable for outdoor environments, which is why it's perfect for indoor and infrared saunas.

Color & Scent: Hemlock is a lovely light white color with uniform texture. Like Spruce, it has little to no scent, perfect for those with sensitive noses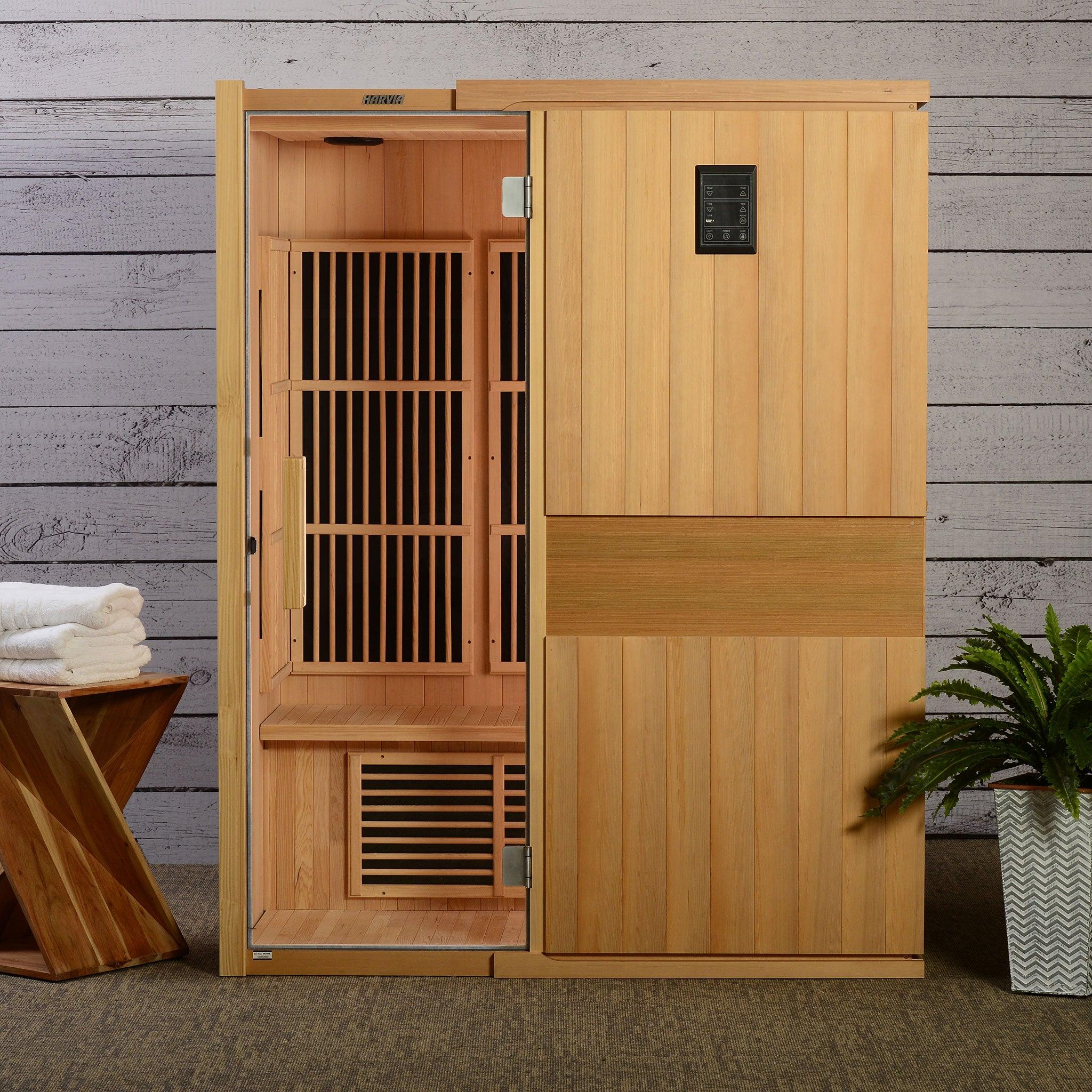 DOUG FIR OVERVIEW
Douglas Fir timber is highly valued for its strength, durability and appearance and is appropriate for both indoor and outdoor sauna use.

Color & Scent: Doug Fir has a beautiful uniform appearance with straight grain and a creamy yellow to reddish-brown color. It has little to no scent.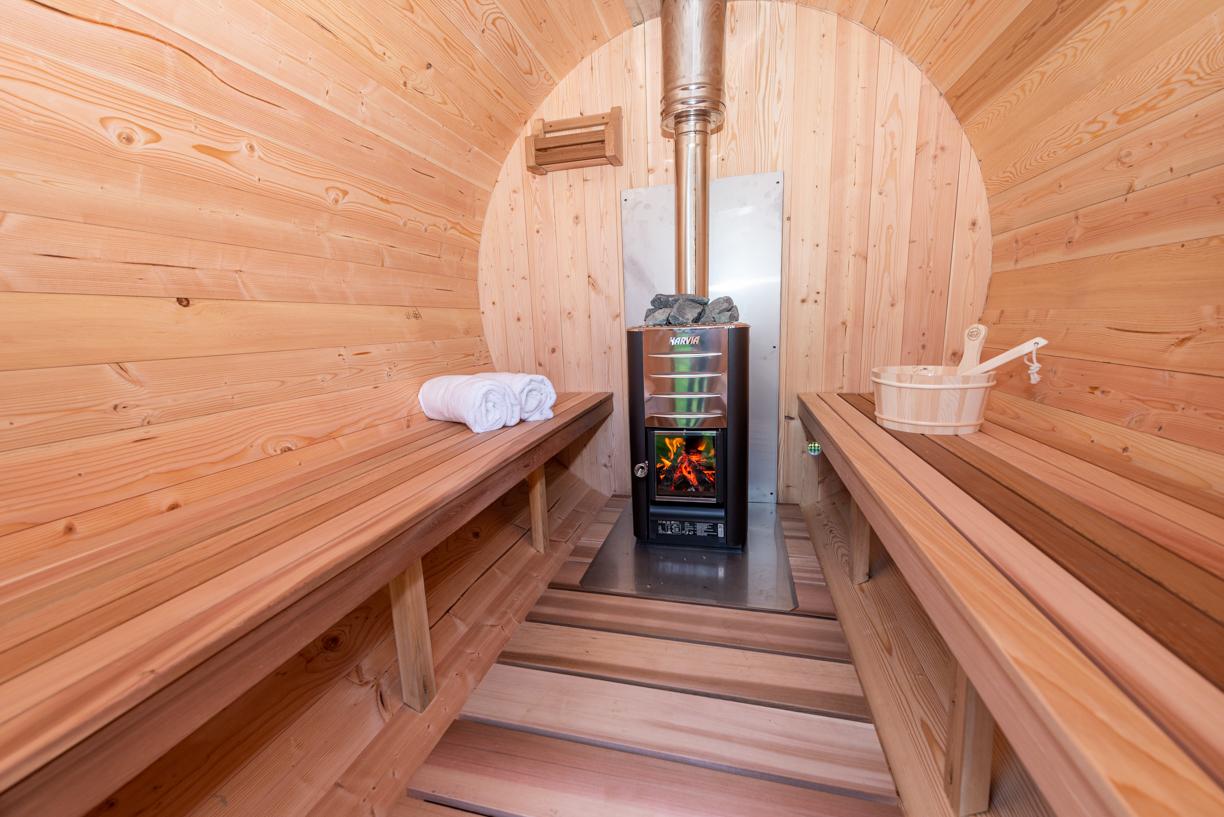 THERMALLY TREATED WOOD OVERVIEW
Thermally modified wood is a chemical-free process that naturally strengthens every board to its core. The result is an environmentally friendly and attractive sauna wood that's more durable and stable than conventional timber.

Color & Scent: Thermal modification can be applied to ANY wood type to strengthen it. Once thermally modified, most woods take on a darker, more refined look that is both beautiful and unrivaled in its resistance to decay.
6. WHAT ARE THE HEALTH BENEFITS ASSOCIATED WITH SAUNAS?
Regular sauna use can provide a wide variety of benefits.
BENEFITS OF HEAT THERAPY
The benefits of hyperthermia, or "heat stress," with regular sauna use is responsible for a number of science-backed health benefits, including longevity, cardiovascular improvements, soothing of aches and pains, weight loss, decreased stress and fatigue, and enhanced relaxation and better mood.

How to reap the benefits: Order any sauna and start using it regularly!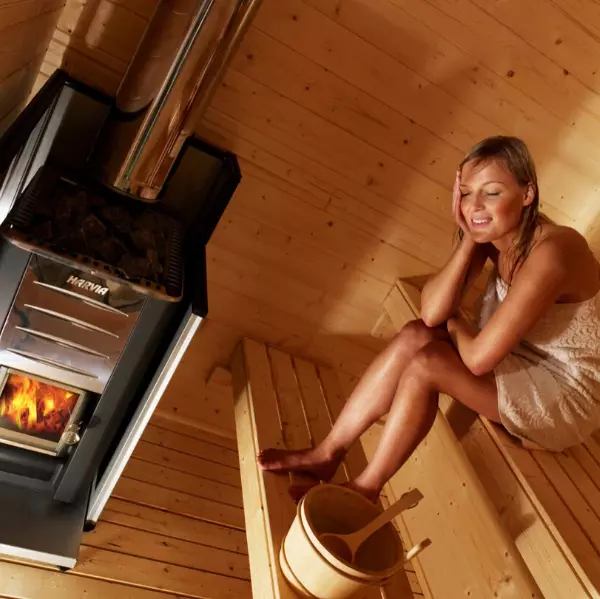 BENEFITS OF HIMALAYAN SALT
Himalayan Salt is known for stimulating the respiratory system, balancing and boosting one's mood, strengthening the immune system and leading to better sleep.

How to reap the benefits: Any Almost Heaven Sauna can be upgraded to include a Himalayan Salt Wall.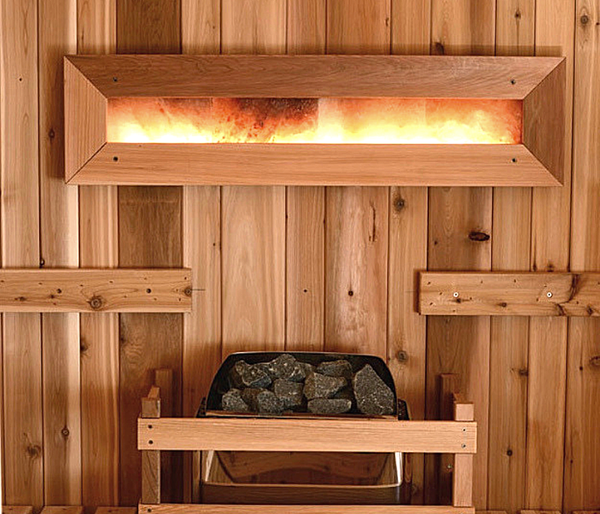 BENEFITS OF COLOR LIGHT THERAPY
Color light therapy (or chromotherapy) is a centuries-old practice that adjusts and balances bodily frequencies and energy stores to improve emotional, mental and spiritual well being.

How to reap the benefits: All infrared saunas come with a chromotherapy light bar, and all Almost Heaven Saunas can be upgraded to include an LED Color-Changing Mood Lighting Bar.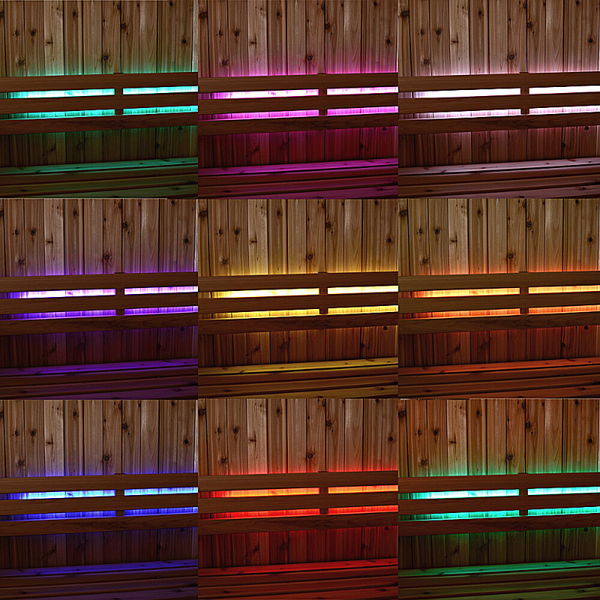 BENEFITS OF AROMATHERAPY
Aromatherapy works by stimulating smell receptors in the nose as well as being absorbed through the skin to send messages through the nervous system to the brain. You can relieve stress and headaches, gain energy and boost your mood all with aromatherapy.

How to reap the benefits: Add a few drops of essential oil to a bucket of water to pour over your sauna's heated rocks to make aromatherapy steam.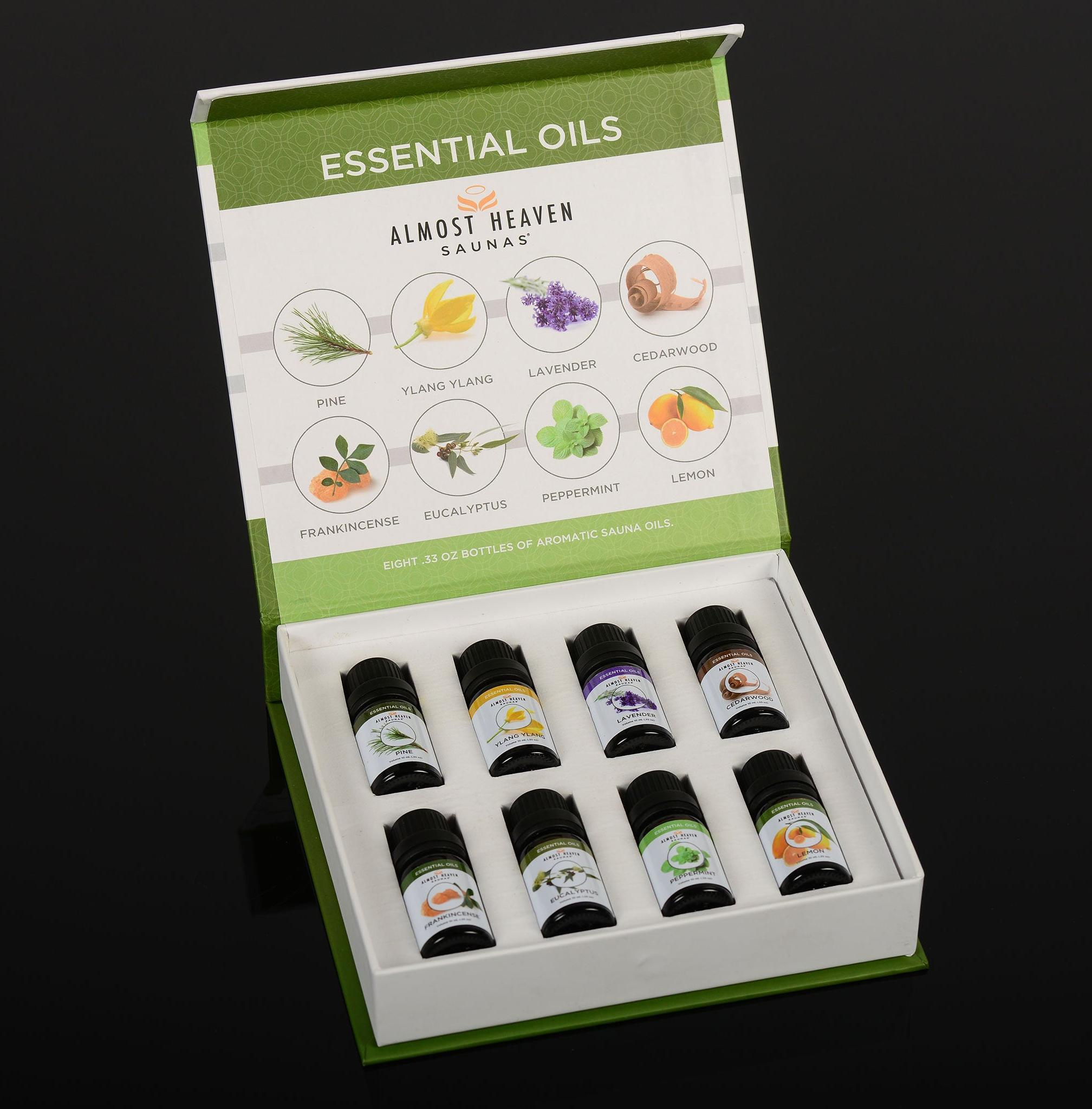 7. WHAT ARE THE BEST SAUNA ACCESSORIES?
Sauna accessories can add another level of comfort and convenience to your experience.
BUCKETS AND LADLES

Sauna buckets and ladles provide an authentic and safe way to transport water to pour over your heater rocks to make steam.
We have all-wood styles and stainless steel and complete sauna packages.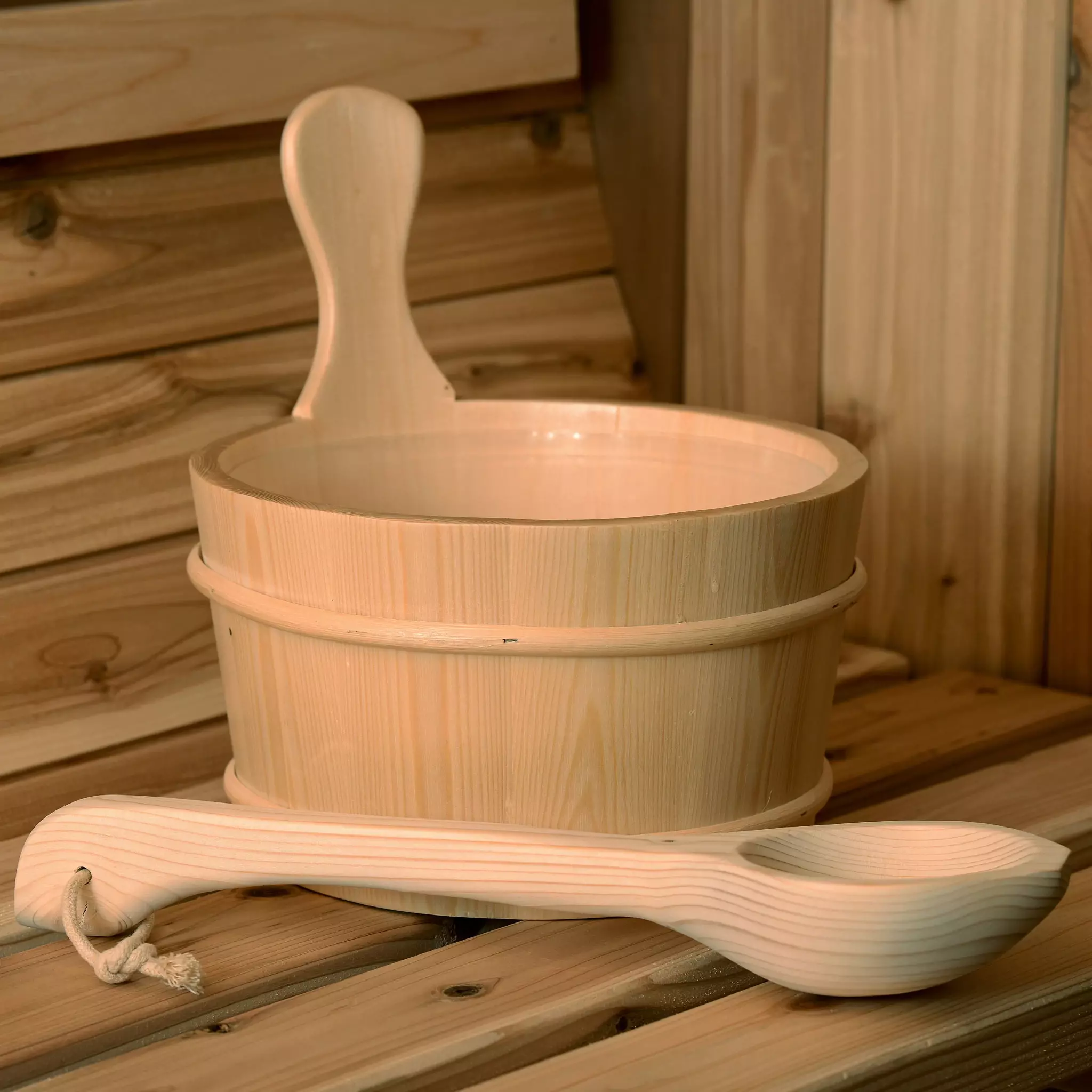 TIMERS, THERMOMETERS, & HYGROMETERS

Timers, thermometers, and hygrometers can give you the specific operational details you need to ensure you have an optimal, dialed-in sauna session.
Premium Accessory Packages make it easy by bundling the basics into one package.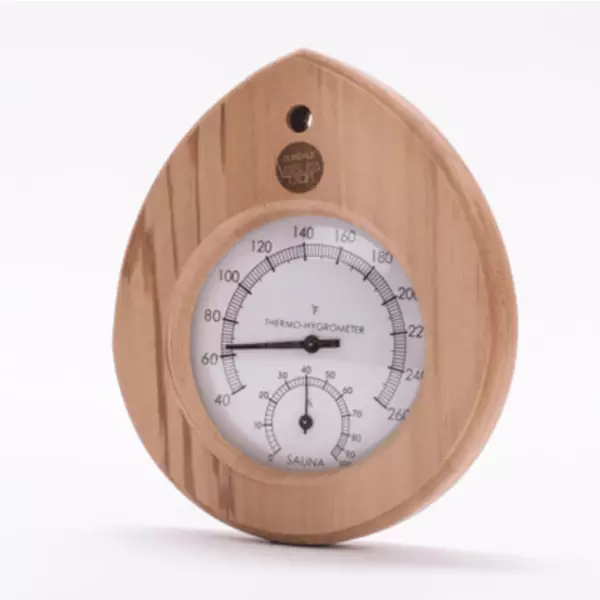 BACKRESTS & LEG LIFTS

All-cedar backrests and leg lifts can give you extra support by ensuring your spine is in a neutral position and removing any pressure from your low back, neck and shoulders.
Also available as a complete "Accessory Kit."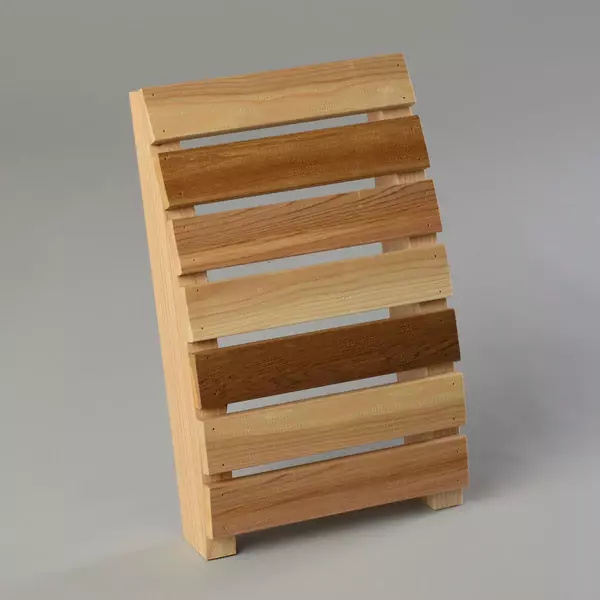 LIGHTS, PILLOWS, SHELVES, & HOOKS

Sauna lights, water bottle shelves, sauna pillows, robe hooks and more can add extra comfort and convenience to every single sauna session.
Each item can be purchased separately, and some can be purchased together in a complete sauna "Accessory Kit" or "Elite Package."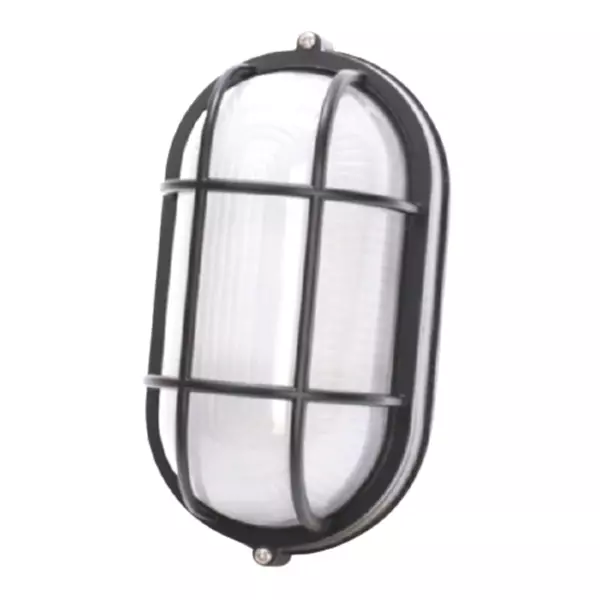 ROOF COVER

A rain jacket for your barrel sauna can provide an extra layer of protection. Outdoor barrel saunas are durable and designed to prevent water leakage and last many years outdoors.
If you live somewhere with especially inclement weather, a roof cover will ensure your sauna's longevity.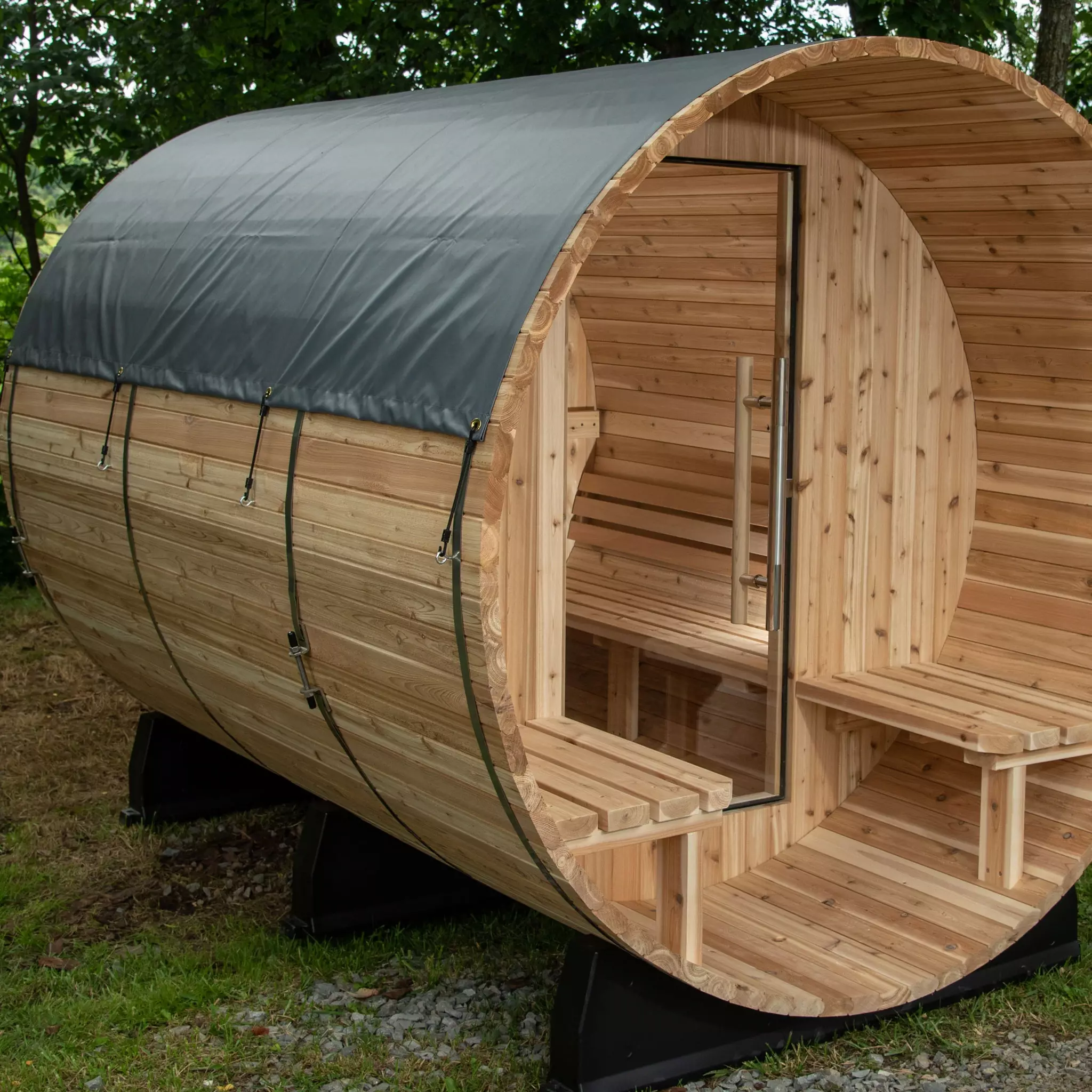 FLOOR KITS

An indoor sauna floor kit is ideal if you prefer the practicality and polished look of a cedar floor, while also protecting your existing floor's surface from moisture.
A barrel sauna floor kit is a good choice if you would prefer a flat floor instead of the rounded floor of a barrel sauna.