SAUNASNET Hemlock Far Infrared Round Sauna Room
Regular Price

$5,999.00
Sale Price

$5,999.00

Regular Price

$8,332.00
Unit Price

per
Product Description

01.Introduction
Our new infrared sauna is ideal for those seeking a relaxing and therapeutic experience. Made of Canadian hemlock wood, this infrared sauna has a look and feel that is not only attractive, but also environmentally friendly.
02.Basic Info
03.Product Details
1.Ceramic tube and Carbon Crystal Heating Plate
With high performance, high strength, safety and long service life, the far-infrared bio-spectrum emitted by pure ceramic tubes is close to the body's own wavelength and is more easily absorbed.

2.Seven Color Light 
A variety of colors are available, and you can switch at will.
3. Bluetooth Audio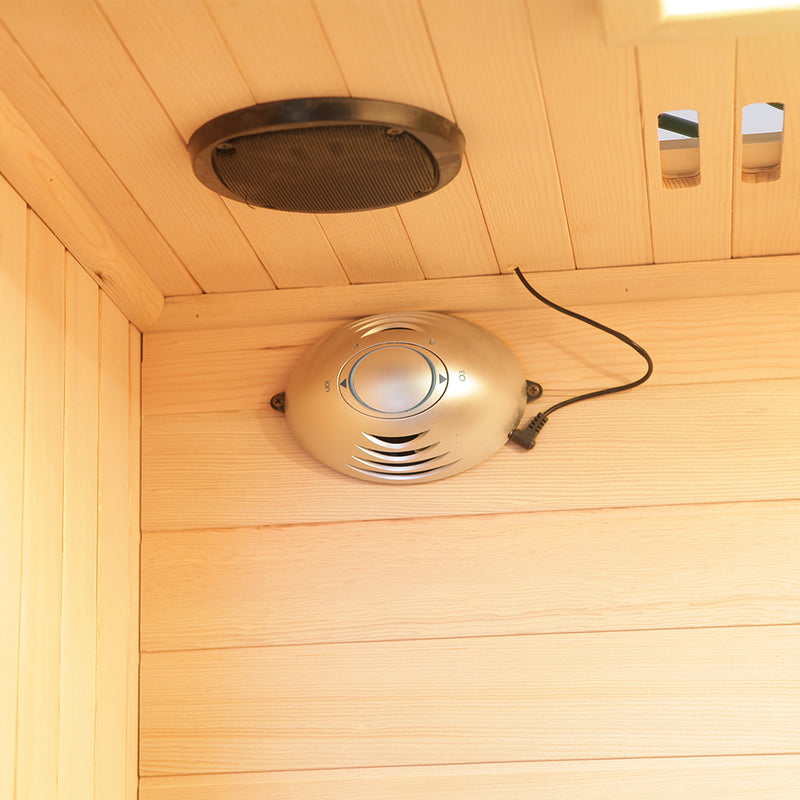 The sauna room is equipped with a Bluetooth speaker, which supports the Bluetooth connection of a mobile phone, and has a resonance effect, just like a stereo sound.

4.Low Electromagnetic Field (EMF)
our saunas are designed to have low Electromagnetic Field (EMF) heaters, so you can be sure that your body is safely experiencing the benefits of the sauna.
5.Touch screen control panel


 New LCD controller, more beautiful design, more stable function and better quality.
04.Solid Wood Type
It has high wood density, natural wood grain, good texture, corrosion resistance and no deformation. However, the processing technology is complicated and the cost is high, and the sauna room made of the same is expensive.
05.About Installation

The sauna room is made of spliced ​​panels, and the sauna room has fixed card slots, which can be easily installed by only 2 people. If you encounter any unclear problems during installation, we can provide video guide installation here. Or you can choose our installation package, we will have a cooperative installation company to install the sauna room on site (except for electrical installation).You could receive your disassembled sauna in the morning and be ready to enjoy it that night!
1. Remove makeup before taking a sauna, so as not to affect the detoxification effect.
2. It is not advisable to take a sauna when you are oversaturated with an empty stomach. If you are oversaturated with an empty stomach, it will cause discomfort to the human body.
3. Drink an appropriate amount of warm water before entering the sauna room, which can not only promote the body to perspire, but also play a role in expelling cold.
4. It is not recommended to take a shower within 4 hours of sauna, and it is not advisable to eat cold drinks within 2 hours, so as not to damage the effect of sauna.
5. After taking a sauna, wait for the heat to dissipate, and then come out after the body adapts to the temperature outside the sauna room, so as to avoid the physical discomfort caused by the rapid alternation of hot and cold.
6. If you feel dizzy or uncomfortable when using the sauna room, stop using it immediately or take a proper rest.
7. Be careful not to hold back your bowel movements before and after sauna use.
07.Shipping & After Sales
The warranty for our products is 1 year. With regard to after-sales service, we offer online technical support and free spare parts. Since this product is an oversized product, we need a production time of 20-30 days and a delivery time of 25-35 days. The total delivery time is 55-65 days.