SAUNASNET Steam and Far-infrared Dual-purpose Sauna
Regular Price

$7,299.99
Sale Price

$7,299.99

Regular Price
Unit Price

per
Product Description
Steam and Far-infrared Suit Combination
Compared to ordinary dry steam room,experience better(not too dry).Faster the ascension oftemperature and humidity,and temperature can beadjusted through the control panel,humidity can be controlled by adding water.
Brand Name : SAUNASNET
Product Name: Steam and Far-infrared Dual-purpose Sauna
Main Material : Solid Wood
Solid Wood Type : Hemlock / Red Cedar
Product Size:1800L * 1800W* 1900H(mm)(5.91' * 5.91' * 6.23')
Door Glass :8 mm tempered glass
Heater Type: 2.9KW FULL SPECTRUM+CARBON PANEL+ 6KW SAUNA STOVE
Function: Promotes Circulation, Relieves Pain, Boosts Mood
Capacity: 3 Person
Door Handle: Crystal Door Handle
Voltage : 220V
Power : 9KW(2.9KW+6KW)
High Light : ISO9000 Infrared Steam Sauna, Combined Infrared Steam Sauna, ISO9000 combined sauna and steam room
Application :Hotel, Villa, Apartment, Indoor
Cetification :CE, ETL, RoHS, ISO9000, SASO
Configuration: control panel (FM&MP3+USB+Bluetooth), ventilation window, oxygen bar, reading light, temperature sensor, speaker, 7-color physiotherapy lamp, remote control, 8mm tempered glass, door handle, wooden barrel, wooden spoon, thermohygrometer, timer, electric heating sauna heater, volcanic stone, explosion-proof light.
OEM/ODM : Yes
Warranty : 1 Year
After-sale Service : Online technical support, Free spare parts
Lead time :Since this product is an oversized product, we need a production time of 20-25 days and a delivery time of 30-35 days. The total delivery time is 50-60 days.
If you have other questions about our products, please contact us, we will answer you at any time: saunasnet@gmail.com

How to Prepare for an Infrared Sauna?

Drink plenty of water and get an ample amount of sleep the day before your sweat sesh. This ensures you're less likely to feel faint or get dehydrated during the experience.
You might also want to bring some form of entertainment along, just in case you get bored. If you're a fidgety person, it helps to have a podcast or your favorite music on hand, as sitting silently while sweating can make you antsy quick.
Detail: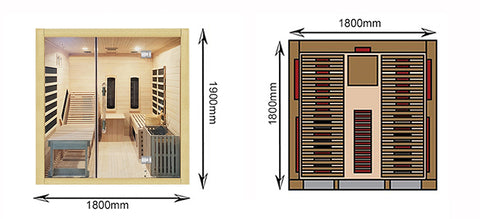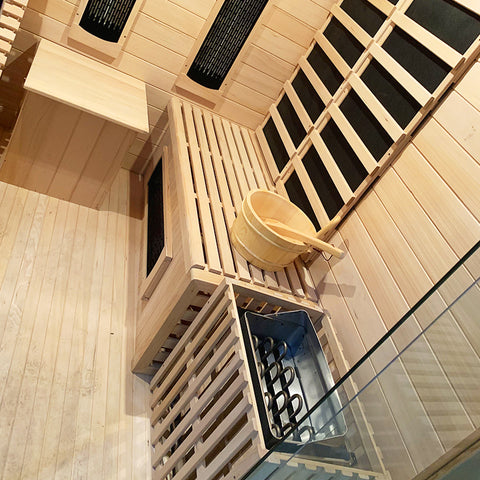 Recliner
According to the ergonomic design, it fits the curve of the human spine, making it more comfortable to enjoy.
7 Color Light
A variety of colors are available, and you can switch at will.
Bluetooth Audio
The sauna room is equipped with a Bluetooth speaker, which supports the Bluetooth connection of a mobile phone, and has a resonance effect, just like a stereo sound.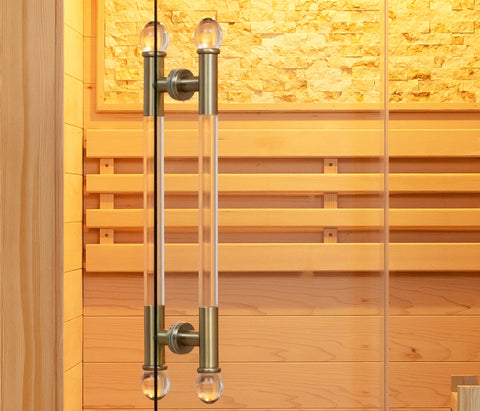 Crystal Handle
Beautiful of external appearance design. Help you easy to open the galss door. Make the sauna room more elegant.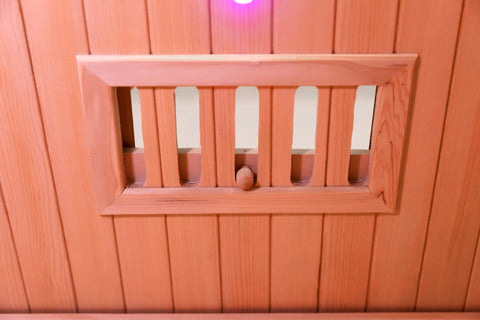 Small Skylight Design at The Top
When you feel airtight in the sauna, you can open the small skylight at the top to breathe.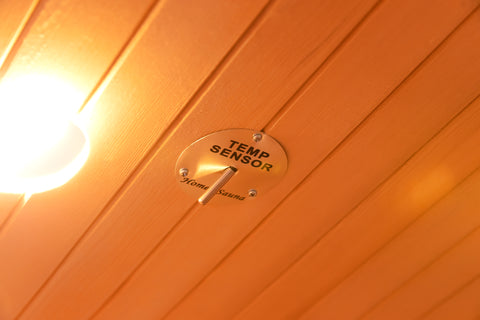 Temperature Sensor Probe
Real-time detection of the temperature in the room, and a safety protection device for abnormal temperature connection.
Configuration: